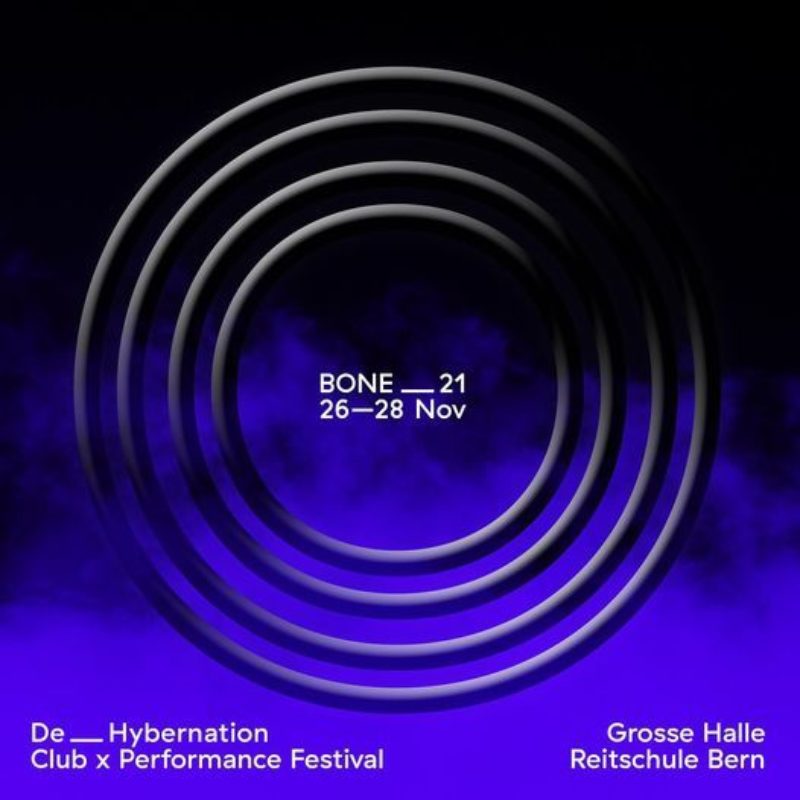 Fr. 26. – So. 28. Nov. 2021
BONE 2021 - DE_HYBERNATION
BONE 2021 - DE_HYBERNATION zeigt künstlerische Projekte zwischen Clubkultur, Performance und bildender Kunst, die im Lockdown entstanden sind. Das Festival konzentriert sich dabei auf Projekte, die bisher noch keine oder nur wenig Öffentlichkeit hatten.

In drei intensiven Tagen und Nächten treffen diese in der Grossen Halle der Reitschule Bern zusammen und eröffnen neue Räume für das Publikum.
*english version below
DE
BONE_21 DE_HYBERNATION - PERFORMANCE X CLUB FESTIVAL

Es wird laut und luftig, heiss und distanziert beim diesjährigen BONE Festival. Dafür bringt DE_HYBERNATION Telefonmassagen, Body-Operas, Klang-Installationen, Clubnächte und Drone-Metal Performances in die Grosse Halle und zu euch nach Hause. Gegen die Winterstarre und doch im Bewusstsein der anhaltenden Pandemie schafft das Programm DE_HYBERNATION, dafür Räume zwischen Performance, Klangkunst und Clubkultur.

EN
BONE_21 DE_HYBERNATION - PERFORMANCE X CLUB FESTIVAL

It will be loud and airy, hot and distant at this year's BONE Festival. DE_HYBERNATION brings phone massages, body operas, sound installations, club nights and drone-metal performances to Grosse Halle in Reitschule Bern and to your home. Against the torpor and yet aware of the ongoing pandemic, the program DE_HYBERNATION creates spaces between performance, sound art and club culture.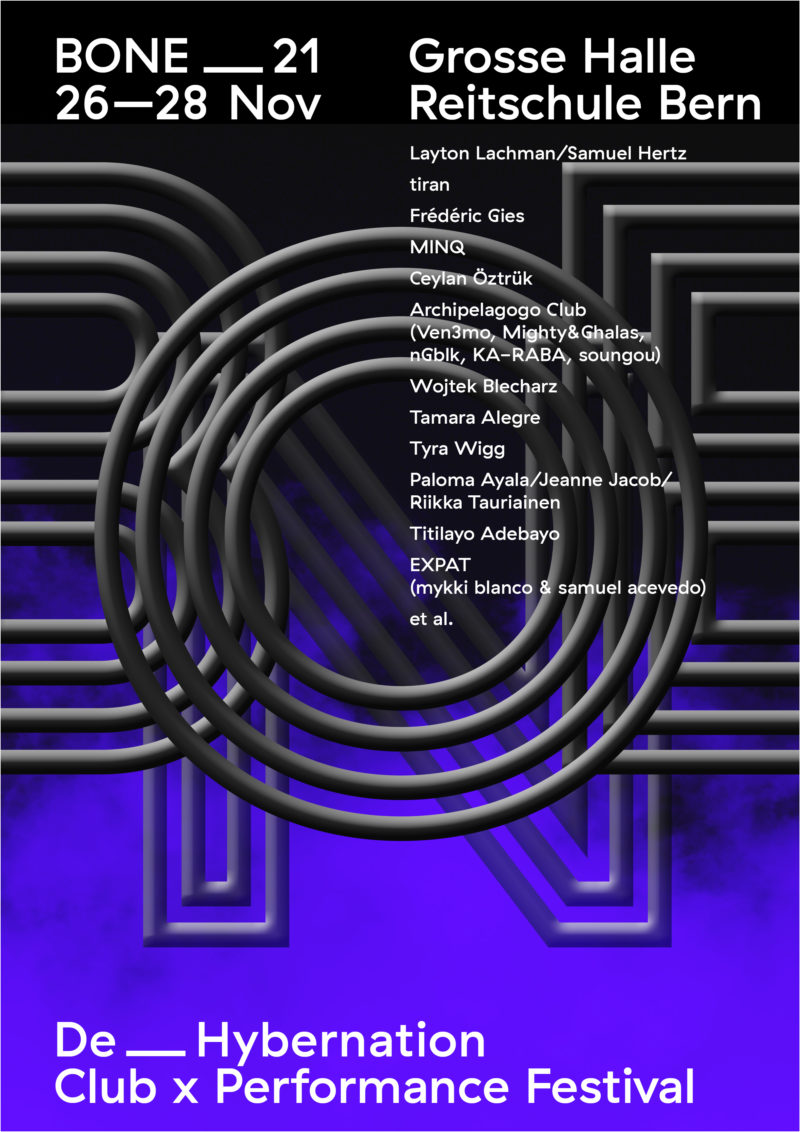 Artistic Direction: Thea Reifler, Philipp Bergmann, San Keller
Production: Marina Porobic
Assistance: Julie Mader, Mina Achermann
Technical Direction: Etienne Pavoncello
Graphic Design: Sarah Parsons
Website: Alexandre Gaeng